Achieving Natural-Looking Lips: The Art of Lip Fillers
01/11/2023
If you've always admired the appearance of beautifully enhanced lips, but hesitated to take the plunge due to concerns of results looking unnatural or overdone, you're not alone.
Many people are intrigued by lip fillers but worry about ending up with an exaggerated, artificial pout. The good news is that achieving natural-looking lips through lip enhancements is not only possible, but can be truly transformative for your self-confidence.
In this article, we will explore the concept of natural-looking lip enhancements using fillers, highlighting how subtle enhancements can make a significant difference in your overall appearance, as well as the importance of choosing an experienced professional for your lip fillers in Kettering.
The Desire for Natural Beauty
In today's world, the pursuit of natural beauty is becoming increasingly popular. People are seeking subtle, refined changes that enhance their features without drastically altering their appearance.
Lip fillers can play a significant role in this endeavour. Rather than opting for a dramatic and noticeable transformation, many individuals are choosing to embrace the art of natural-looking enhancements.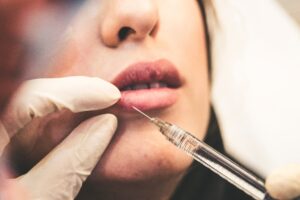 Subtle Enhancements, Significant Impact
One of the key principles of natural-looking lip enhancements is subtlety. By opting for modest changes, you can achieve a remarkable transformation without anyone being able to pinpoint exactly what's different about your appearance.
Subtle changes enhance your natural beauty, making your lips look fuller, plumper, and well-defined, while still keeping your overall look authentic.
Boosting Self-Confidence
Many individuals who are insecure about their lips often find that subtle lip enhancements boost their self-confidence. When you look in the mirror and see a subtle, natural improvement, it can have a profound impact on how you feel about yourself.
It's about loving the way you look and embracing the beauty that's already there.
The Role of your Dentist in the process
Achieving natural-looking lip enhancements requires the expertise of a skilled and experienced professional. This is where the choice of your practitioner becomes paramount.
An experienced Kettering Dentist with a deep understanding of facial anatomy and an artistic eye for detail can help you achieve the look you desire.
They will carefully assess your unique facial features, taking into consideration your lip structure, symmetry, and overall facial balance.
Through this personalised approach, they can recommend the right amount of filler to achieve your desired look while maintaining a natural appearance.
A Gateway to a More Confident You
In conclusion, the art of achieving natural-looking lips through lip fillers is about enhancing your features in a way that feels right for you.
By selecting an experienced Kettering Dentist, you can trust that your results will be both beautiful and authentic. Subtle enhancements can make a significant difference in your overall appearance while maintaining the essence of who you are.
If you've been considering lip enhancements, but find yourself hesitating due to fears of looking overdone, now is the time to explore this transformative possibility. Embrace your natural beauty and boost your self-confidence with the art of natural-looking lip fillers.
Schedule a consultation with our skilled team of experts to begin your journey towards the lips you've always dreamed of – subtle, beautiful, and uniquely you.
Back to Blog