Are Dental Implants Worth the Investment?
17/01/2023
Are dental implants worth the cost?  At Kettering Dental & Implant Clinic, we have seen how dental implants have benefited many of our patients and changed their lives for the better. Keep reading to discover whether dental implants would be a worthwhile investment for you.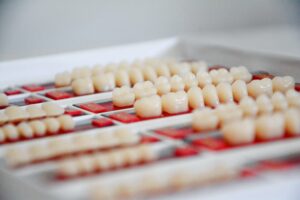 Dental implants are durable.
If you want to replace a lost tooth with a treatment option that might last the rest of your life, dental implants are absolutely worth the investment. Dental implants are strong and durable since they are constructed of durable materials like porcelain and rooted titanium. They have potential to last for the rest of your life if you take good care of them, saving you the hassle of maintaining dentures or repairing broken parts. We discover that many patients are enamoured with how dependable dental implants are and how many doors they open into a more comfortable lifestyle.
The placement and permanence of dental implants
Implants for the teeth are designed to last a lifetime. They establish a remarkably sturdy foundation in your jaw because their titanium root encourages the jawbone to recover around it. When chewing, chatting, laughing, or eating, they don't move, dislodge, or come loose. Many patients find this level of long-term protection to be extremely alluring, especially when placed above their dentures. When you replace them with a dental implant, you won't have to deal with strange-tasting glue to hold your full or partial denture in place, hasty refitting if they fall out during a social event, or overnight soaks and cleaning!
Your quality of life could be improved by dental implants.
Many patients discover they can relax knowing they won't have to worry about the awkward situations linked to dentures thanks to a fixed and permanent tooth replacement. With your confidence restored, you won't need to restrict your diet or feed your dentures bland snacks any longer. Dental implants are absolutely worthwhile when you take into account that they not only have several health advantages but also have the potential to enhance your relationships, social confidence, and quality of life.
Dental implants maintain the health of your jawbone
The root of every tooth extend into the jawbone. When a tooth is lost, This causes that particular section of jawbone to deteriorate, endangering the surrounding teeth and bone as well as potentially changing the shape of your face. However, if you decide to get a dental implant in that location after noticing the bone resorption, you could need more preparation and bone grafting than if you'd chosen to get one as soon as the tooth was lost.
However, it is worthwhile to continue to support the health of your jawbone lest you later regret it and find yourself forced to take unanticipated further measures.
For more information on how we might assist you, see our teeth-straightening page.
Back to Blog