Benefits Of Childhood Orthodontic Treatment
12/03/2023
Early orthodontic intervention is an excellent approach for identifying any issues with your child's developing mouth, and fixing them before they become chronic issues. You might be surprised at some of the things that orthodontic treatment can treat, but it is also the solution to many childhood issues. Learn more about how bringing your child to the orthodontist might benefit them!
How Kids can Benefit from Orthodontic Treatments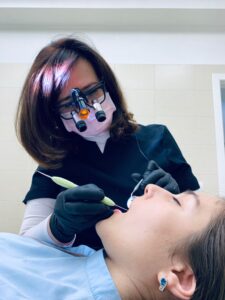 Early Recognition
If your child's mouth or jaw are developing abnormally, their orthodontist will be the first to notice. Occasionally, identifying these issues early in childhood will spare your child from future surgery and consequences that may accompany this. If your child doesn't require treatment right away, the orthodontist will monitor their growth and regularly monitor their development to make sure their teeth and jaw are aligned, preventing the changes that they experience any issues in the future.
Facilitates Speaking
People don't usually think to associate a child's speech difficulties with their teeth. However, the main reason behind your child's speech problems could be that their teeth or jaw are not properly aligned. The most typical deficits include lisping, slurring, and mispronouncing "S" and "T" sounds, but orthodontic treatment can help!
The greatest way to guarantee that this issue won't persist throughout a person's life is to correct the alignment of the teeth and jaw when they are still in the developmental stage.
Reduces The Risk of Tooth Decay
With straight teeth, your child is better able to reach the hard-to-reach places in their mouth, floss easily, and ensure that their entire mouth has been well cleaned. It's a different situation if you have crooked teeth.
Children with crooked teeth are considerably more prone to develop tooth decay since it is more difficult for them to clean their teeth, often resulting in poor oral hygiene.
You and your youngster should ideally consult an orthodontist before the age of seven, as having crooked teeth can pose major health hazards. The best techniques to make sure your child's dental health is on the right track are braces and preventive dentistry.
For more Information on how our Orthodontic Treatment Options can Help Your Child's Long-Term Health, Get in Touch with Kettering Dental and Implant Clinic!
For many years, Kettering Dental & Implant Clinic has assisted numerous kids and teenagers in achieving healthier, more attractive smiles. We'd be delighted to support your family as you get your kids ready for orthodontic treatment.
So please don't hesitate to get in touch with us to speak with a member of our staff and let us know how we can help you arrange for your child's initial appointment!
Back to Blog