Is Invisalign Right for You? 5 Signs You're a Candidate
12/06/2023
Invisalign is a revolutionary orthodontic treatment that uses a set of clear, removable aligners to progressively move your teeth into their intended position. It has evolved as a popular alternative to traditional braces, providing you with a discreet and effective treatment to achieve a straighter, more visually appealing smile. However, how do you know if Invisalign is right for you?
In the article below, we'll discuss the signs that you're a candidate for Invisalign in Kettering, explaining the benefits that this orthodontic treatment can provide.
Are you a Candidate for Invisalign?
Misaligned Teeth
If you have crooked, twisted, or rotated teeth, Invisalign is able to handle these issues with ease. The invisible aligners are designed to cure mild to moderate cases of misalignment, leaving you with a straighter and more aesthetically pleasing smile!
Gaps Between Teeth
Invisalign can reduce the appearance of minor to moderate teeth gaps, resulting in a more harmonious and even appearance. The aligners will progressively bring your teeth closer together, closing any gaps between them.
Crowded Teeth
If your teeth are crowded or overlap slightly, Invisalign treatment is a great for resolving any alignment issues, the aligners gently repositioning your teeth to provide a more symmetrical smile.
Bite Issues
Bite issues, such as overbites, underbites, crossbites, and open bites, can all be treated using Invisalign. Invisalign works to enhance your bite function and overall oral health by aligning your teeth and jaw, leaving you with a straighter and more functional smile.
Traditional Brace Concerns
If you are concerned about the appearance of traditional braces, as well as the possible discomfort and inconvenience they may cause, Invisalign may be a good option for you. Clear aligners are discrete, comfortable, and removable, making orthodontic treatment an easier and more flexible process.
So, if you're a candidate for Invisalign, what benefits can you expect to gain from this orthodontic treatment?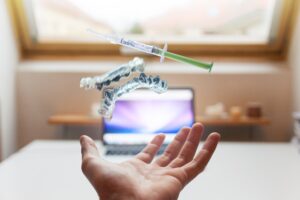 The Benefits of Invisalign
Discretion and Aesthetics
One of the major benefits of Invisalign is its nearly undetectable appearance. The clear aligners allow you to straighten your teeth while being covert about your orthodontic treatment, making for a great orthodontic option for patients who may be self-conscious about wearing traditional fixed braces.
Removability and Convenience
Because aligners are not fixed to your teeth, they are easily removed for special events, or for eating and drinking. This simplicity allows you to keep up with your usual dental hygiene regimen without interruption.
Comfort and Relief from Irritation
Aligners, unlike traditional braces, are comprised of smooth plastic, which reduces discomfort and irritation to your lips and cheeks. The lack of brackets and wires makes orthodontic treatment more comfortable.
Better Oral Hygiene
Invisalign aligners can be removed for brushing and flossing, allowing patients to maintain good oral hygiene. This minimizes the risk of tooth decay and gum disease throughout your orthodontic treatment by preventing plaque development.
If you move ahead with Invisalign in Kettering, what should you expect during the treatment process?
The Invisalign Treatment Process
Consultation and Evaluation
Your Invisalign journey begins with a consultation with a skilled practitioner at our dental clinic in Kettering, who will assess your teeth, discuss your goals, and determine if Invisalign is right for you.
Customized Treatment Plan
Based on your evaluation, a customized treatment plan will be created. This plan will outline the precise movements of your teeth and provide a visual representation of how your smile will progress during the treatment.
Custom Aligners
Your dentist will provide a series of custom-made aligners that you will be instructed to wear for about 20 to 22 hours per day. Every few weeks, you will switch to a new set of aligners as your teeth gradually move into their desired positions.
Regular Check-ups and Progress
Throughout treatment, you will attend regular check-ups with your Dentist to monitor your progress and ensure everything is progressing as planned. Adjustments may be made to your treatment plan if necessary.
Completion of Treatment
Once your teeth have reached their final positions, your Invisalign treatment will be complete. At this stage, your Dentist may recommend retainers to help maintain your new smile.
Aftercare and Retention
After completing your treatment, it is crucial to follow your Dentist's instructions for wearing retainers. Retainers help prevent your teeth from shifting back to their original positions, ensuring the longevity of your beautiful smile.
To conclude, Invisalign offers an excellent solution for individuals seeking a discreet and effective way to achieve straighter teeth. By addressing signs of misalignment, gaps, overcrowding, and bite issues, Invisalign can improve both the aesthetics and functionality of your smile. With its numerous benefits, including aesthetics, removability, comfort, and better oral hygiene, Invisalign has become a popular choice for orthodontic treatment.
Contact Kettering Dental and Implant Clinic to learn more about Invisalign treatment at our clinic in Kettering today.
Back to Blog