The Link Between Oral Health and Overall Health
04/09/2023
Have you ever wondered how your oral health might be connected to your overall well-being? It's a connection that's often overlooked, but it's essential to understand how the state of your mouth can impact your entire body.
In this article, we'll explore the link between oral health and general health, shedding light on why taking care of your teeth and gums is more important than you might think.
Your mouth is like a window into the health of your body. Everything that you eat or drink first passes through your mouth, and your oral health can influence how your body digests and absorbs nutrients.
For instance, gum disease, a common oral health issue, has been linked to various systemic health problems, including heart disease, diabetes, and even pregnancy complications.
When your gums are inflamed and infected, harmful bacteria can enter your bloodstream and wreak havoc on other parts of your body. It's not just about a toothache; it's about your overall health.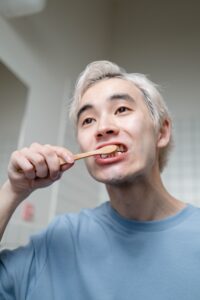 Oral Health and Heart Health
Research has shown a connection between gum disease and heart disease. The inflammation caused by gum disease may contribute to the build-up of plaque in the arteries, increasing the risk of heart-related problems. Taking care of your gums through regular dental check-ups and good oral hygiene practices can be a step toward a healthier heart.
Diabetes and Oral Health
If you have diabetes, you may already know that managing your blood sugar levels is crucial. But did you know that uncontrolled diabetes can also lead to oral health issues? High blood sugar can create the perfect environment for oral infections, making it important for individuals with diabetes to pay extra attention to their oral health.
Pregnancy and Oral Health
For expectant mothers, oral health is especially important. Pregnancy hormones can affect the gums, making them more susceptible to gum disease. Untreated gum disease during pregnancy may lead to premature birth and low birth weight, so maintaining good oral hygiene during pregnancy is not just about a beautiful smile—it's about the health of both mother and child.
The Role of Preventive Dentistry
Regular general dentistry check-ups and cleanings are vital for maintaining your overall health, as well as the health of your teeth and gums.
Your dentist is able to identify and address any oral health issues before they become serious problems. They can also offer guidance on proper oral care routines tailored to your unique needs.
To conclude, your oral health is intricately linked to your overall health. Neglecting your teeth and gums can have far-reaching consequences.
By understanding this connection and taking proactive steps to care for your oral health, you're not only preserving your smile but also safeguarding your well-being.
Back to Blog