Professional Teeth Whitening vs. Over-the-Counter Products: Which is Right for You?
24/07/2023
If you're considering teeth whitening to achieve a brighter smile, it's crucial that you are aware of your options, and understand the factors that differentiate each teeth whitening treatment.
In the below article, we will discuss the advantages of professional treatments, such as customised solutions, controlled application, and faster, more effective results. Additionally, we'll address the potential limitations of over-the-counter products, empowering you to make an informed decision.
Let's delve into the details and discover which approach is best suited for your teeth whitening needs.
Professional Teeth Whitening: Customised Solutions and Controlled Application
When it comes to achieving a whiter smile, professional teeth whitening services on offer at Kettering Dental and Implant Clinic provide distinct advantages when compared to over-the-counter products.
One of the primary benefits is the customisation that they are able to provide. At our practice, we assess your unique dental needs and create a personalised whitening plan tailored specifically to you. This ensures optimal results and minimises the risk of sensitivity or uneven whitening.
Moreover, the process involves controlled application by trained dental professionals, their use of protective barriers further enhancing the level of safety throughout the procedure. You can rest assured knowing that your oral health and comfort are prioritised throughout the teeth whitening process.
Faster and More Effective Results with Professional Treatments
Another significant advantage of professional teeth whitening is the speed and effectiveness of the results. Unlike over-the-counter products that may require weeks or months of continuous use, professional treatments deliver noticeable outcomes in a shorter time frame.
Additionally, professional treatments can address a broader range of dental discoloration issues. Whether your teeth are stained due to aging, lifestyle habits, or certain medications, our dental professionals have the expertise to tailor the treatment to your specific needs.
The controlled application and potent whitening agents used in professional treatments effectively break down stubborn stains, revealing a brighter and more youthful smile.
Drawbacks and Limitations of Over-the-Counter Whitening Products
While over-the-counter whitening products may seem appealing due to their accessibility and lower cost, they do have certain drawbacks and limitations.
Firstly, these products often come in a one-size-fits-all approach, lacking the personalised customisation that professional treatments provide. This can result in uneven whitening or ineffective results, especially if you have specific dental concerns or conditions.
Moreover, the strength of the whitening agents used in over-the-counter products is typically lower than what is available in professional treatments. As a result, the whitening process may be slower and less effective, requiring longer periods of use to achieve noticeable results.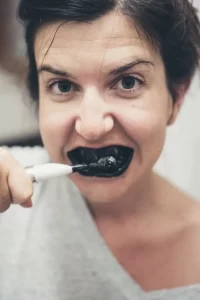 Furthermore, without professional guidance, there is a higher risk of misuse or improper application, which can lead to gum sensitivity or other side effects.
It's important to understand that the effectiveness of over-the-counter products can vary widely, and their results may not be as consistent or long-lasting as those achieved with professional treatments.
Consulting with our dental professionals at Kettering Dentists ensures you receive expert guidance, personalised care, and the most effective teeth whitening options available.
By choosing teeth whitening in Kettering, you can benefit from customised solutions, controlled application, faster results, and a higher likelihood of achieving the bright smile you desire.
Contact our practice today to schedule a Kettering teeth whitening consultation, and let our experienced team guide you towards a confident, radiant smile that lasts.
Back to Blog