Transforming Your Smile with a Smile Makeover
23/10/2023
A smile makeover is a tailored treatment plan that works to combine two or more cosmetic dental procedures, revitalising and improving the appearance of your smile.
These procedures may include cosmetic bonding, veneers, crown lengthening, Invisalign®, or teeth whitening – all treatments aimed at creating a brighter, more harmonious smile.
How Long Does it Take to Have a Smile Makeover?
The timeline for a smile makeover varies from case to case, because each patient's smile is unique. Some procedures, such as teeth whitening and veneer application, can be completed in just one or two appointments.
However, more complex treatments, such as implants, may require 6-9 months due to the necessary healing time.
Are You Eligible for a Smile Makeover?
Anyone looking to improve the appearance of their smile is a potential candidate for smile makeover treatments. However, if underlying oral health issues exist, these may need addressing first through restorative treatment before commencing the smile makeover process.
A smile makeover comprises two or more cosmetic treatments, with no fixed limit on the number of procedures. Your dentist will collaborate with you to determine the precise combination of treatments needed to bring your dream smile to life.
What is Cosmetic Bonding and How Does it Work?
Cosmetic bonding is a non-invasive procedure regularly used within smile makeover treatments that offers instant improvements. It's an effective solution for misshapen teeth, as well as those with cracks, chips, discolouration, or minor gaps.
During the procedure, your dentist applies bonding material to the affected tooth, carefully shaping and smoothing it to achieve a natural appearance. The resin used in cosmetic bonding mimics your natural tooth colour, ensuring that the repair remains virtually undetectable.
After the procedure, you can go about your daily routine, eating, drinking, brushing, and flossing as usual.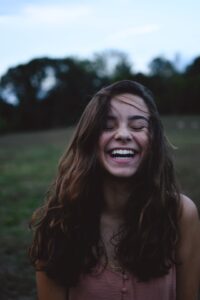 Transforming Self-Image
From photos to first impressions, being self-conscious about your smile can take a toll on your self-image. But remember, you're not alone in these concerns; they're entirely normal.
A smile makeover, through various dental procedures, can enhance your self-image, helping to improve the appearance of teeth and boost your confidence
A smile makeover is more than just cosmetic dentistry—it's a gateway to a more confident and positive you. Are you self-conscious about your smile or have any dental concerns?
Schedule an appointment with your cosmetic dentist Kettering to explore the transformative possibilities you can have with smile makeover.
Back to Blog